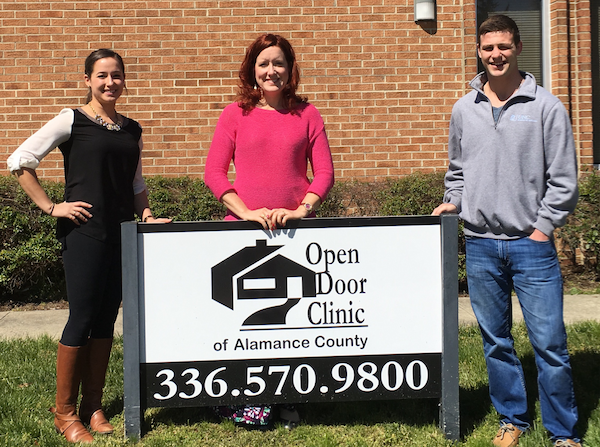 Anna Kahkoska and Nick Brazeau, both MD/PhD students at the UNC School of Medicine, were selected as 2016-2017 NC Albert Schweitzer Fellows for our project to implement group medical visits as the standard of care for patients with diabetes at the Open Door Clinic, a free clinic in Burlington, NC.
The fellowship supports Schweitzer Fellows (primarily graduate students) as they partner with community-based organizations to develop and implement yearlong, mentored service projects that meet the health needs of underserved populations. (While continuing their graduate studies, U.S. Schweitzer Fellows design and implement community-based prevention and intervention projects that address chronic health issues and the social determinants of health such as poverty, the environment and education.)
Faculty mentors for the project include Dr. John Buse, MD/PhD, Dr. Laura Young, MD/PhD, and Joe Largay from UNC Endocrinology. Tracy Salisbury, Executive Director of the Open Door Clinic is the site mentor.
Aims for the project include:
To assess the efficacy of the group visit, or shared-medical appointment model (GVM), among uninsured diabetic patients from Alamance County.
To measure the effect of the GVM on quality of health, which includes patient adherence, disease distress, perceived social support, overall stress, and quality of life.
To develop a feasible and effective  student-based clinical model for the treatment of chronic diseases that can be used across the nation in other student-organized medical centers.
Nick and Anna are enthusiastic about bringing cutting edge primary care paradigms in chronic disease management to patients at the Open Door Clinic in order to improve quality of life and biophysical outcomes in Alamance county.